Have you ever wanted to experience a special and spiritual place that feels very different from everyday life? Well, you don't need to search anymore – just visit the beautiful ISKCON Temple Delhi.
What do you think is inside the temple? Let's start a journey to discover the deep spiritual feelings that make ISKCON Temple in Delhi so special.
About Iskcon Temple Delhi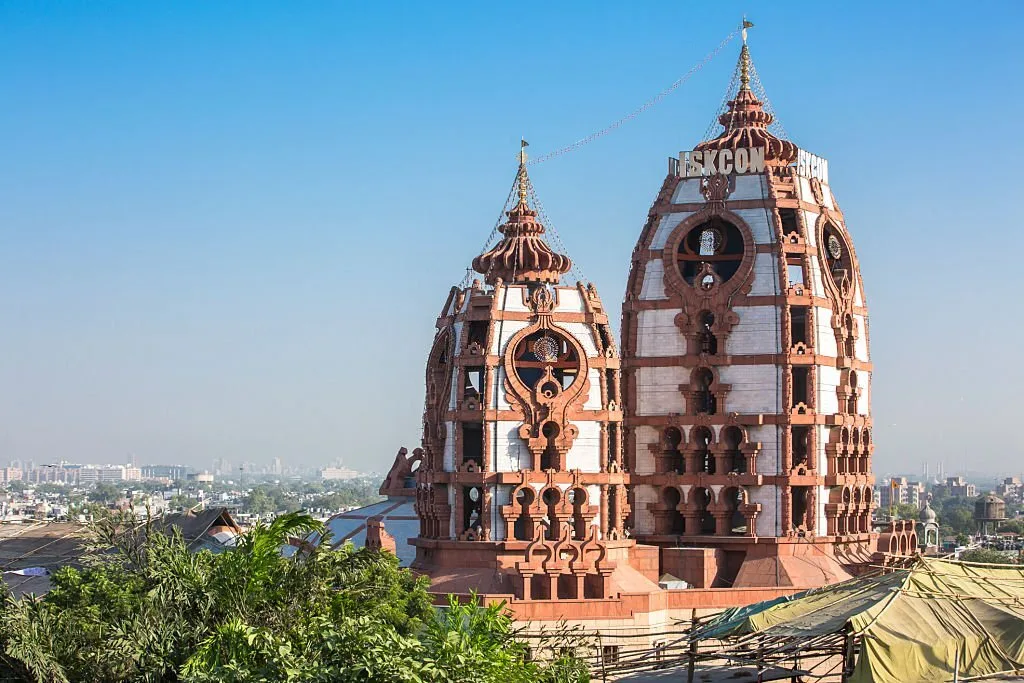 The ISKCON Temple in Delhi, also known as Sri Sri Radha Parthasarathi Mandir, is a special temple dedicated to worshiping (Lord) Krishna and Radharani (goddess).
It was opened on April 5, 1998, with important guests like Former Prime Minister Atal Bihari Vajpayee, Sushma Swaraj, and Former CM of Delhi Sahib Singh Verma.
The temple is located in Hare Krishna Hills in Delhi's East of Kailash area and is one of the largest temples in the country.
The outside of the ISKCON Temple (Delhi) is beautifully decorated with carvings and stonework, and there are also shops and fountains. Inside, the main temple has lovely deities dressed in rich clothes and jewelry.
The temple is a place for learning about Vedic traditions and often holds talks and lectures for the devotees. People in the temple often chant "Hare Rama Hare Krishna," which is important in ISKCON.
ISKCON Temple Delhi also shows multimedia presentations of The Ramayana and The Mahabharata, which are famous Hindu epics.
The temple is also proud to have the largest printed version of The Bhagavad Gita, a holy scripture in Hinduism. Besides these, there is an Art Gallery, library, bookstore, restaurants, and other facilities for visitors.
The temple is a peaceful and spiritual place where people can connect with their inner selves. It provides a rich and fulfilling experience for those seeking devotion and wisdom.
The ISKCON Temple Delhi is a wonderful place with a peaceful atmosphere. It offers a complete spiritual experience for everyone who visits, making it a special destination for those seeking divine love and knowledge.
ISKCON stands for The International Society for Krishna Consciousness. This spiritual group is part of a branch of Hinduism called Gaudiya-Vaishnavism. Even though most Hindus believe in lots of gods, this group believes in just one, Krishna. They follow the teachings of the Bhagavad Gita, an old book written in Sanskrit.
The person who started ISKCON is A.C. Bhaktivedanta Swami Prabhupada. He began it in July 1966 in New York City. The Krishna Consciousness Movement became popular, and over a few decades, they built 108 ISKCON temples all around the world while Prabhupada was alive. During his time, this movement gained around 10,000 followers globally.
The Architecture Of The ISKCON Temple (Delhi)
The ISKCON Temple in Delhi is a beautiful place of worship. It was built in the 1990s and combines modern construction with traditional Indian architecture. The person who designed it is Achyut Kavinde, and they did an amazing job.
The outside of the temple is mostly made of white marble. That marble makes the temple shine and change colors all day long. The temple has a big dome that's 90 feet tall. It stands on eight pillars, and each pillar has carvings of Hindu gods on it. Inside the dome, there are beautiful paintings of Lord Krishna and his Beloved Radha.
Inside, there is a big courtyard with gardens and fountains. It feels calm and peaceful there. The architects used an ancient Indian system called "Vastu Shastra" to make sure the temple fits well with nature and the universe.
The main prayer hall is very special. It has high ceilings with beautiful chandeliers. There are also arches that lead to smaller rooms for different gods and goddesses. The light coming in creates a magical feeling.
The walls have carvings that tell stories from ancient Indian epics like the Ramayana and the Mahabharata. These stories are about courage, love, and sacrifice. They add to the temple's beauty and also teach people important lessons.
The Temple has six main parts, and they give visitors different experiences:
Temple: The main temple is located at the top of Hare Krishna Hills. It has tall towers made of marble, wood, and carved stone. People do rituals and Aartis here and worship idols.
Centre for Vedic Studies: In this part, there are halls for seminars and classes about Vedic Philosophy. It also has a library called the Library of Vedic Research.
Centre for Vedic Performing Arts: There's an open-air Amphitheatre facing the main temple. People do traditional music and dance performances here.
Museum of Vedic Culture: It's known as Glory of India Vedic Culture Centre. They use multimedia to teach visitors about Hindu Scriptures. They have unique visual and interactive presentations about Bhagavad Gita, Mahabharata, Ramayana, and Bhagavata Purana.
Krishna Jayanti Park: This park is inspired by the stories of Krishna's adventures with milkmaids in gardens. It's a serene place with ponds and waterfalls.
The Ashram: This is where Krishna devotees stay and learn about Vedic literature and Lifestyle.
The ISKCON Temple (Delhi) is not just a place of worship. It's also a center for cultural and educational activities. They have seminars, workshops, and festivals that celebrate India's rich heritage and bring people from different backgrounds together.
Visiting the ISKCON Temple is a special experience. It shows the amazing talent of Indian architects and the devotion of the people. It is a place where people feel connected to something bigger than themselves.
The World's Largest Sacred Book at ISKCON Temple, Delhi
On February 26, 2019, at the ISKCON Temple in Delhi, some important people were present. These included Prime Minister Narendra Modi, Tridandi Sannyasi Gopal Krishna Goswami, and India's Cultural Minister Dr Mahesh Sharma.
They revealed something amazing – a huge Bhagavad Gita that weighed 800 kilograms. This book is the biggest sacred book in the whole world, no matter the religion.

The Bhagavad Gita is a very important book full of wisdom and teachings. This huge version of it was really tall, measuring 2.8 meters. When they showed it, everyone could feel how special it was. It showed how much people cared about its teachings.

People who visit the ISKCON Temple in (Delhi) now see this huge sacred book. It's not just a big book – it's a sign of people's beliefs and their efforts to understand life better.
ISKCON Temple Timings, Entry Fee & Aarti Schedule
If you want to see free things in Delhi, you should visit the ISKCON Temple. It doesn't cost anything to enter. They also accept donations, which you can give in person using cash, upi, check, demand draft, or through their website's payment gateway.

The ISKCON Temple(Delhi) is open every day of the week. It starts with the Mangala Arati ritual at 4:30 in the morning and remains open until 9 at night. But, between 1 and 4 in the afternoon, the main hall is closed.
Throughout the day, the temple hosts several artis that you can attend. You can choose the ones you prefer and plan your visit accordingly. Here are the timings for the artis:
Mangala Aarti: 4:30 AM

Japa (Mantra) Aarti: 5:15 AM

Darshan Aarti: 7:15 AM

Guru Puja: 7:30 AM

Srimad Bhagavatam Discourse: 8:00 AM

Raj Bhog Aarti: 12:30 PM

Usthapana Aarti: 4:15 PM

Sandhya Aarti: 7:00 PM

Bhagavad Gita Discourse: 8:00 PM

Sayana Aarti: 8:30 PM
Things to do at ISKCON Temple
The Temple provides many different things to do that let people connect with spirituality, art, and the community. It doesn't matter if you want to learn and grow, experience culture, or feel like you belong somewhere – there's something for everyone inside the temple. Let's look at some ways you can have a great time during your visit to the ISKCON Temple:
Experience Vibrant Festivals: Immerse yourself in vibrant celebrations like Janmastami, Rath Yatra, Diwali, and Holi. These festivals are adorned with rituals, kirtans, dances, and feasts that not only offer joy but also nurture spiritual growth[1].
Join the Sunday Love Feast: Be a part of the "Sunday Love Feast" program, a cherished tradition initiated by Srila Prabhupada. Indulge in delicious vegetarian meals, relish music, engage in dance, and take part in enlightening spiritual discussions.
Explore the World of Arts: Discover a realm of artistic expression at ISKCON through VANDE (Vaisnava Arts for a New Devotional Era). This platform showcases fine arts, theater, dance, music, cinema, literature, and architecture, connecting spirituality with creative endeavors.
Engage in Devotional Music and Dance: Dive into dynamic musical expressions by ISKCON devotees around the world. Participate in musical performances, engaging classes, and heartfelt kirtans that elevate your spirit.
Witness Captivating Dance Performances: Enjoy classical Indian dance performances that encapsulate the essence of devotion and spirituality, creating a unique blend of art and devotion.
Admire Artistic Creations: Marvel at original paintings that depict Lord Krishna and His divine abode. These artworks beautifully merge Eastern and Western artistic styles, conveying the richness of spiritual devotion.
Attend Theatrical Presentations: Witness the vivid retellings of Vaishnava philosophy through captivating theatrical plays. These presentations bring to life scriptural stories and teachings in an engaging and immersive manner.
Explore Architectural Masterpieces: Embark on a journey to explore ISKCON temples, each a masterpiece of traditional and neo-Vedic designs. From the gold-domed temple in West Virginia to the intricately designed temples, each structure is a testament to devotion and artistry.
Discover Bhakti Yoga Principles: Engage in spiritual discussions, lectures, and teachings centered around the principles of Bhakti Yoga. Delve deep into the wisdom of the Bhagavad-Gita and its practical application in life.
Participate in Chanting and Meditation: Join fellow devotees in chanting the holy names of Krishna through kirtans and mantra meditation sessions. Experience the meditative and transformative power of sound vibration.
Engage in Enlightening Satsangs: Take part in uplifting spiritual discussions and satsangs that foster a deeper understanding of Vedic philosophy and its application in contemporary life.
Contribute Through Volunteering: Play an active role in the temple community by volunteering your time and skills. From preparing meals to assisting in temple activities, your service contributes to the well-being of the community.
Explore Profound Vedic Literature: Delve into the teachings of ancient Indian scriptures through lectures, readings, and discussions. Explore the profound wisdom of texts like the Bhagavad-Gita and uncover their relevance in today's world.
Find Peace in Meditation: Seek solace and inner reflection in the tranquil atmosphere of the temple. Meditate amidst the serene surroundings that facilitate inner peace and self-discovery.
Participate in Enlightening Workshops: Engage in workshops that delve into the principles of Bhakti Yoga, meditation techniques, and the philosophical insights found within Vedic texts.
Connect Through Bhakti Study Groups: Connect with like-minded individuals in study groups focused on the teachings of Lord Krishna and spiritual texts. Share insights, thoughts, and experiences in a supportive community.
Indulge in Spiritual Feasts: Relish the joy of spiritually prepared vegetarian feasts during festivals and gatherings. Experience the nourishment of both body and soul.
Attend Enlightening Discourses: Attend enlightening discourses and lectures by experienced spiritual teachers. Deepen your understanding of Vedic philosophy and its practical applications.
Experience Japa Meditation: Immerse yourself in the meditative practice of japa, repeating the holy names of Krishna on prayer beads. Experience a profound connection to the divine through this sacred practice.
Contribute to Charitable Initiatives: Take part in the temple's charitable initiatives, extending a helping hand to those in need. Spread the message of love, compassion, and service to society.
Things To Keep In Mind While Visiting ISKCON Temple (Delhi)
Dress Modestly: ISKCON Temples usually have a dress code that promotes modesty and respect. It's advisable to wear clothes that cover your shoulders and knees. Avoid wearing revealing or inappropriate attire.
Capture Memories Respectfully: If photography is allowed, capture moments respectfully and without disturbing other worshippers. Avoid using flash or intrusive photography..
Respect Temple Etiquette: While visiting the temple premises, adhere to the guidelines provided. Follow instructions related to photography, footwear, and entering restricted areas.
Follow Temple Guidelines: Familiarize yourself with the specific guidelines of the temple you are visiting. This could include rules about photography, dress code, and behavior within the temple premises.
Respect Others' Privacy: While visiting the temple, be mindful of other worshippers' privacy. Maintain a quiet and respectful atmosphere, especially in areas of meditation and prayer.
Respect Silence Zones: Some areas of the temple premises might be designated as silence zones for meditation and contemplation. Adhere to these zones to maintain a peaceful environment.
Places to Visit Near ISKCON Temple
If you're coming from another city and want to enjoy your time in Delhi even more after seeing the ISKCON Temple, you can also check out some nearby places to visit:
Astha Kunj Park:
Just a 9-minute walk from the temple, you'll find Astha Kunj Park. It has a lake that fills up during the rainy season and an outdoor gym. If you're into fitness, there's a jogging track too. The park is open every day from 4 AM to 9 PM.
Shri Kalka Ji Temple:
About 14 minutes from the temple, you will find Shri Kalka Ji Temple. It's an old temple from the 18th century, and people go there to pray to the goddess Kali. They believe that their wishes come true when they worship here.
People also believe that this place is unique because it's considered one of the Siddha Peeth regions, where the lower lip of a female goddess fell. That's why many people think that if you're a true devotee, your wishes will come true here.
Lotus Temple:
About 16 minutes from ISKCON Temple, you'll come across the Lotus Temple. It's a beautiful place known for its special design and calm feel. Anyone can go there to pray or think, no matter what they believe.
Remember to check the timing details for Lotus Temple before you go. It's a nice place to keep your peaceful moments, and it looks like a lotus flower. So, when you're in Delhi, take a break and see this lovely temple.
How To Reach ISKCON Temple Delhi
ISKCON Temple in Delhi is located in the East of Kailash area, and there are a number of ways to get here:
By Metro: The Delhi Metro is a really easy way to travel. It's cool inside and safe, and you don't have to spend a lot. The ISKCON Temple (delhi) area is connected by the Violet Line. You can decide to go to Nehru Place Station or Kalkaji Mandir Metro Station. The closest metro station to ISKCON Temple is Nehru Place Station, and it's just a short walk from there.
By Bus: Nearest Bus stop to ISKCON Temple Delhi is B Block East of Kailash which is 0.8 Km away from the temple. From there, you can walk or take a Cab/Rickshaw to the Temple.
By Cab: You can easily reach here by cab.
By Personal Vehicle: You can come with your personal vehicle.
Information About The Iskcon Temple Delhi
Map of The ISKCON Temple Delhi
Official Website – https://www.iskcondelhi.com/
Contact No. – 011 2623 5133 or +91 93102 69713 
Email – [email protected]
Nearest Metro Station – The Nearest Metro Station to ISKCON Temple Delhi is Nehru Place